Peru is one of the world's 17 mega-diverse countries. It holds the record for differing climates and niches, occupies the first places in diversity of flora and fauna, and is a domestication center for many of the most important food species for mankind.

Our processing plant and warehouse in Lima is strategically located in the center of Peru's coastal strip, close to the port of Callao. This factor generates greater efficiency in the freightage of Andean grains that come from different extremities of Peru, to be processed before being exported to international markets.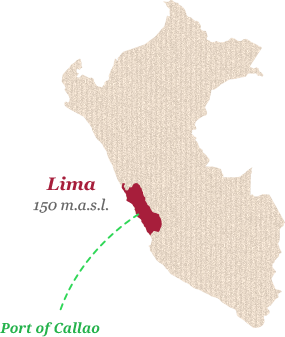 Most of the quinoa grain processing industry, both in Peru and Bolivia, have their production lines scattered geographically throughout different locations. The washing and drying of the grain is often done on the fields, in the open air, under unsatisfactory hygienic conditions, and the subsequent selection of the grain done perhaps thousands of kilometers away in different installations.
Both of these practices are commonly outsourced and generate inefficient over costs, loss of traceability and food hygiene risk enhancement.
At Villa Andina we have a continuous, automated grain-processing line that incorporates all the stages and processes required to guarantee the highest purity of grain available. In our facilities, under efficient, optimal food hygiene conditions, we scarify, wash, sterilize and remove all foreign material from our final grain product, while maintaining traceability at all times.
THE PRODUCTION PROCESS IN